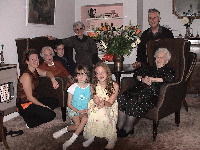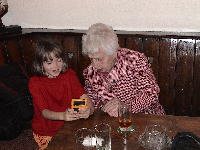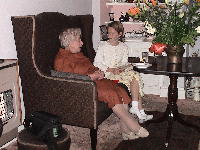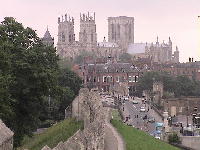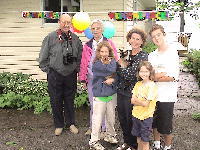 However, we were all looking forward to seeing Sarah's Great Aunt Rose & Great Aunt Rebecca. With help from some very nice neighbours, both great Aunts still live on their own at ages 98 and 93 respectively in York and Harrogate. Although not planned, Sarah's parents are also visiting York, so we got to see Gran and Grandpa again too.

In these pictures, Chloe is explaining the intricacies of Pokémon on a gameboy to her Great Great Aunt Rose, and Heather is talking to her Great Great Aunt Rebecca about the latest book she read. We enjoyed a much more typical English life in York and Harrogate - pub lunches, drives in the country, dinner parties in Rose's flat, and restaurant dinners with the Aunties, Gran and Grandpa, and Rob and Sue (who used to be neighbours of Sarah's Grandmother). We look forward to returning in a few years for Rose's 100th birthday.

We initially stayed at the Carlton House Hotel, and then moved to Mowbray House bed and breakfast because the Carlton House was booked for the last two nights.

World Cup fever has hit England. We've seen many St George's cross flags (the english part of the union jack) on shirts, in stores, and flying out car windows. I overheard Scottish visitor wondering if it was a red cross convention. Mark has taken to playing soccer again. Unfortunately, in typical teenage style, he picked all the wrong places - hotel rooms, Rose's living room, and streets.

We were disappointed to learn that the two chocolate factories (Rowntree/ Nestlé for Smarties and Terry's for chocolate Oranges) no longer offer factory tours. However, we visited two excellent museums while in York. The National Rail Museum has excellent static displays of trains from the very first engine up to a Shinkansen engine which was recently donated by the Japan Rail. The Yorkshire Air Museum is housed in a old WWII airfield - it also has some excellent static diplays (a Me109 and one of the only two remaining Halifax bombers). It also had a room dedicated to the work of Wallis Barnes - a prolific inventor who is best known for designing the "Dambuster" bombs. I was also surprised to learn about the number of Canadians flying out of this area during the war - Canada had its own Bomber Wing stationed around here. In fact, the main hangar at the museum was dedicated to the Canadians who flew from here.

After York, we drove south of London to Crowborough, where Sarah's other Grandparents used to live. We stayed with Janie and Simon, old family friends who we had recently seen in France. It was a nostagic visit for Sarah. We saw Withyham Church (built in 1300's), where Sarah's grandparents are buried, and also looked at Meadow House where they lived.

A pub lunch and a two games of bowling with Janie and Simon put the kids in the right frame of mind to return home to Canada. It has been almost 10 months to the day since we packed our bags and left from Toronto. We could have traveled for another few months, but we have a busy summer ahead of us - not the least of which is deciding where to live, where to send the kids to school, and what to do next... but that will be another story!